Student Registration
NEW TO DISTRICT
If you are new to SCSD#2, welcome to our community! There are a few things to do in order to be properly enrolled in one of our outstanding schools, and we are here to help. We highly recommend that the first step is to confirm which school your child will attend. The staff at your designated school will then be able to help you with the respective registration process and any questions regarding the steps below.
You will need to present your child's birth certificate, immunization record and a proof of address to their school prior to enrollment. Additional records may be required on a school-by-school basis. Please contact your school to find out what additional information may be required.
Once your child is enrolled, you may request a Parent Portal Account. You will then be directed to complete Online Registration (more information below) via the parent portal.
We encourage parents to learn about our Free or Reduced Meals Program. If you are eligible, the Meal Benefits Application may be completed online via the Parent Portal's Application/Forms tab.  If you prefer to complete a paper form, you may request one from your child's school or from the district administration building at 201 N. Connor St.
For information about busing, please see our Transportation Department page.
Please scroll down to view specific information regarding Kindergarten registration, John C. Schiffer and The Wright Place registration, and Sheridan High School registration.
IN-DISTRICT TRANSFER
If your child is already enrolled at an SCSD#2 school and you would like to transfer to a different school, please contact the new school regarding the transfer process. The need for transfer is most often the result of a move, in which case you may need to confirm which school your child will be transferring to. The staff at the new school will be able to help with the transfer/registration process, as well as answer any questions you may have.
ONLINE REGISTRATION
Online registration for kindergarten and new students will be completed as directed by the secretary during the enrollment process.
Though existing  students are automatically enrolled each school year, a guardian in their primary household must complete the Online Registration (OLR) each year. Guardians are asked to complete the online registration in August before school starts.
The OLR can be completed on any computer with internet access via the  Parent Portal. Once you are logged in to your parent portal, click on the Online Registration link: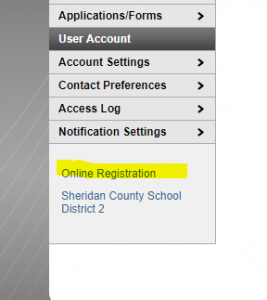 The system will walk you through a yearly update of your student's information and permissions. If you have more than one student attending SCSD2 schools, you may update all students in a single session, it is not necessary to submit a separate OLR for each student.
After you have completed the OLR, you will click on the red "Submit" button. At this point your OLR is submitted for review by SCSD2 staff. You will receive an email when it has been accepted and posted.
If you do not have internet access, you are welcome to complete Online Registration using a computer at any district school.
Kindergarten Registration:
Kindergarten registration for the following academic year occurs around late February. At that time, we will be available to make appointments for kindergarten readiness screenings, which will help determine which Kindergarten Program is best suited for your child.
As a first step, we recommend confirming which school your child will attend. The staff at that school will be able to help make appointments for screening or answer any other questions you may have about kindergarten or the registration process.
During the open registration period, you may enroll your child by visiting the school your child will attend and providing a birth certificate, immunization record and utility bill, as well as completing some additional paperwork.
John C. Schiffer Collaborative School and The Wright Place Middle School :
John C. Schiffer Collaborative School and The Wright Place Middle school are alternative schools and require an additional application process. You  may find more information below:
Sheridan High School:
Sheridan High School primarily handles student registration during the month of August. In early August, we will send a mailing to every student with information, dates and times for registration.
We typically take two days in mid-August for the registration process, with 1/2 day allocated for each grade. If a student is not available to attend the respective registration period, he or she may come in during any other time. We also have late registration in the main office the following week.
On registration days, staff members are available to enter new or changed information, and students will pick up a packet of paperwork. On registration day, there will also be various stations set up to assist with paperwork and student needs, including: parking stickers; picking up schedules, picking up student handbooks, verifying immunizations with the school nurse, paying fees and managing lunch accounts.