School Meals
The mission of the Sheridan County School District #2 Food Service Nutrition Department is to provide a variety of appealing, nutritious, and safe meals in an environment that is respectful of each student's needs and differences. Food Service employees are committed to the success and excellence of every District student with a vision of improving student performance in a cost effective and efficient program.
Meals are available to all students. Some children pay the advertised price, but low and moderate income children qualify for both breakfast and lunch free or reduced price meals. The maximum charge for reduced price is $.30 for breakfast and $.40 for lunch. Children who qualify for free or reduced price meals are not publicly identified in any way. Pricing and meal plan information may be viewed here.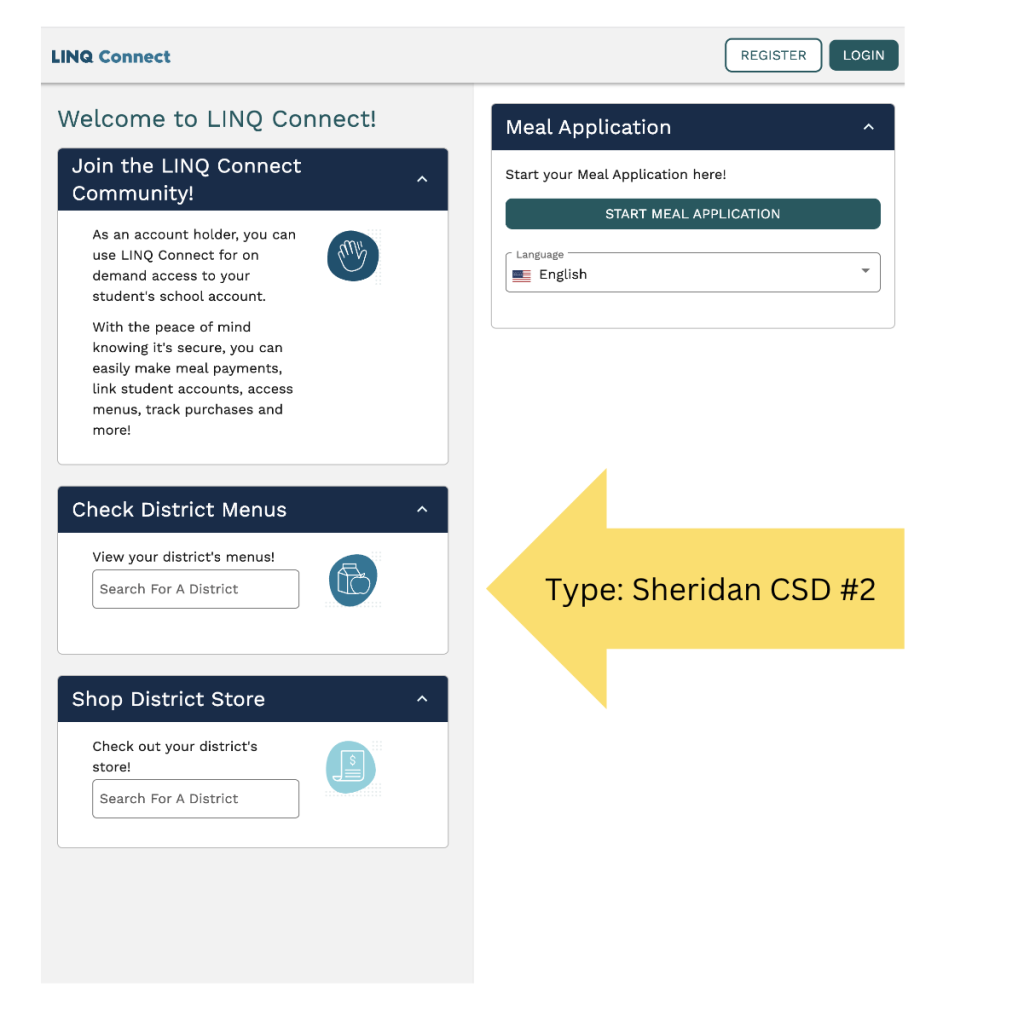 Special Diets
If your student has a special dietary need, please download the form. Fill out the form and return to your school nurse. Special Diet Request Form- English Special Diet Request Form – Spanish
SCSD2 Local Wellness Policy
The health and physical well-being of students directly affects their ability to learn. To enhance the district's efforts to improve the health of our students, a Wellness Committee meets yearly to set goals and assess the previous year's implementation. More information can be found at the Local Wellness Policy and Wellness Policy Assessment. Potential stakeholders who would like to participate and/or provide suggestions in the development, review, update, and implementation of the school wellness policy, please contact:
Leslie Haberkern
Food Services Director
307.674.7405 ext. 5003
leslie.haberkern@scsd2.com
Breakfast Serving Times
Elementary Schools: 7:30 am – until the bell rings for the start of school
Universal Breakfast Elementary Schools: 7:45-8:15
Sheridan Junior High: 7:50 am – 8:10 am
Sheridan High School: 7:30 am – 8:15 am
Lunch Serving Times: Times may vary by school and by grade. Please see your school's respective menus and times for more information. Parents are encouraged to come to school and eat lunch with their children. Please notify the school in advance if you will be coming to have lunch.
Henry A. Coffeen Elementary School:

Kindergarten: 11:20
First Grade: 11:30
Second Grade: 11:35
Third Grade: 11:45
Fourth Grade: 11:55
Fifth Grade: 12:00

Highland Park Elementary School:

Pre-K/Kindergarten: 11:35 – 11:55

First Grade: 11:50 – 12:10
Second Grade: 12:00 – 12:20
Third Grade: 11:40 – 11:50
Fourth Grade: 12:10 – 12:30
Fifth Grade: 12:20 – 12:40

Meadowlark Elementary School

Kindergarten: 11:30 – 11:55
First Grade: 11:40 – 12:00
Second Grade: 11:50 – 12:10
Third Grade: 12:00 – 12:20
Fourth Grade: 12:05 – 12:25
Fifth Grade: 12:10 – 12:30
Sagebrush Elementary School:

Kindergarten: 11:15 – 11:35
First Grade: 11:20 – 11:40
Second Grade: 11:35 – 11:55
Third Grade: 11:10 – 11:30
Fourth Grade: 11:45 – 12:05
Fifth Grade: 12:00 – 12:20

Story Elementary:
Woodland Park Elementary

Pre-Kindergarten:
Kindergarten : 11:45 – 12:05
First Grade: 11:50 – 12:10
Second Grade: 11:55 – 12:15
Third Grade: 12:00 – 12:20
Fourth Grade: 12:05 – 12:25
Fifth Grade: 12:10 – 12:30
Sheridan Junior High School:

Eighth Grade: 11:12 – 11:33
Seventh Grade: 11:33 – 11:54
Wright Place: 12:06 – 12:27
Sixth Grade: 12:27 – 12:48

Sheridan High School:

First lunch: 11:11 – 11:47
Second lunch: 12:08 – 12:44
Early out Friday:
First: 10:35 – 11:11
Second: 11:20 – 11:56

John C. Schiffer Collaborative School

All Grades: 11:50 – 12:26
USDA Nondiscrimination Statement:
In accordance with federal civil rights law and U.S. Department of Agriculture (USDA)civil rights regulations and policies, this institution is prohibited from discriminating on the basis of race, color, national origin, sex (including gender identity and sexual orientation), disability, age, or reprisal or retaliation for prior civil rights activity.
Program information may be made available in languages other than English. Persons with disabilities who require alternative means of communication to obtain program information (e.g., Braille, large print, audiotape, American Sign Language), should contact the responsible state or local agency that administers the program or USDA'sTARGET Center at (202) 720-2600 (voice and TTY) or contact USDA through theFederal Relay Service at (800) 877-8339.
To file a program discrimination complaint, a Complainant should complete a Form AD-3027, USDA Program Discrimination Complaint Form which can be obtained online at: https://www.usda.gov/sites/default/files/documents/USDA-OASCR%20P-Complaint-Form-0508-0002-508-11-28-17Fax2Mail.pdf, from any USDA office, by calling (866) 632-9992, or by writing a letter addressed to USDA. The letter must contain the complainant's name, address, telephone number, and a written description of the alleged discriminatory action in sufficient detail to inform the Assistant Secretary for CivilRights (ASCR) about the nature and date of an alleged civil rights violation. The completed AD-3027 form or letter must be submitted to USDA by:
1. mail:
U.S. Department of Agriculture
Office of the Assistant Secretary for Civil Rights
1400 Independence Avenue, SW
Washington, D.C. 20250-9410; or
2. fax:
(833) 256-1665 or (202) 690-7442; or
3. email:
program.intake@usda.gov
This institution is an equal opportunity provider.