Teacher Spotlight: Mrs. Stevens
by Wrangler Roundup Staff
Mrs. Stevens: The BEST teacher in the WORLD!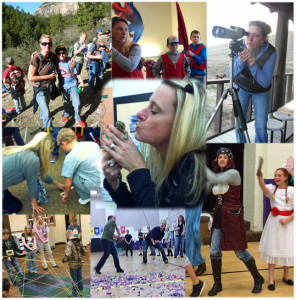 The teacher I had this year was the best teacher I ever had and a great friend. It was amazing that you could call her on the phone and meet somewhere like Three-Poles (a dirt bike track). It was not like the other teachers I had when you would just see them at the grocery store. She made it fun to learn because I learn best if I am moving around, and she made that possible. I did not read through a whole science book. I did not touch a dictionary. But I DID learn a lot this year! We learned through games, and we barely sat in our seats. She gave us fun websites to go to, and had us build a diagram or we played a game. It was also awesome that you could talk to her about anything and everything, especially with all the drama that goes on in my class! Mrs. Stevens, thank you for the best year ever. ~ Katie T.
Mrs. Stevens has been the best teacher ever! She is very kind and generous. She was always there for me and would always listen to me. There was so much drama going on and I am very thankful for her support! She had super-fun teaching methods and always made you want to know more. I would call her and we would go dirt biking at Three-Poles with Katie T. and our families. I love having a teacher that you can hang out with outside of school! We got to play Capture the Flag when we were learning about the Revolutionary War! She never stopped teaching us, and it was always super fun!! Thank you for being such an amazing teacher! ~ Medora P.
Questions and Answers about Mrs. Stevens
Where did you grow up: Washington
Who was your best friend: My brother Joe
Who was your favorite teacher: Dr. Cindy
What was the coolest thing you've ever done: Competed in half-pipe competitions
Scariest thing: Being lost in the woods
What is your favorite color: Purple
What places have you lived: Washington, Idaho, Wyoming , and Montana
How many pets do you own: 9
How many kids do you have: 3
What is your favorite thing to do: Camping
What is your favorite book series: The Hunger Games
Favorite book: Blind Your Ponies
How long have you been riding dirt bikes: 27 years
Favorite part about Yellowstone: Being out in nature with kids
How long have you been going to Yellowstone: 6 years
How many siblings do you have: 3 siblings