Sagebrush's faculty and staff are unanimous in their commitment and purpose toward students and learning, as embodied in our mission statement: We are the 21st century learners who are respectful, responsible, safe and kind.
In order to achieve this mission, we believe firmly in meeting the needs of the whole child – not just academic focuses. Everything we do brings this philosophy to bear in helping our students and teachers meet high learning expectations.
Building on this commitment to learning and high expectations, our current academic improvement goals are for each student to improve:
In the area of reading comprehension
The organization of their writing across all curricular areas
In developing a wide range of skills and strategies for mathematic problem solving and be able to communicate the reasoning used in solving these problem
BLOCK REQUEST FORM FOR 2017-2018
Parents/Guardians,
The Block Request form for 2017-2018 has been moved online.  Please click the link below and submit a Block Request for every student in your household who will be attending 1st-5th grade at Sagebrush next school year.
Sagebrush Elementary Block Request Form, 2017-2018
A LOOK AHEAD 
May 29th – Memorial Day – No School
June 2nd – Last Day of School – Early Release – Kindergarten out @ 12:05 pm, 1st -5th grade out @ 1:15 pm
SUMMER BOOK CHECKOUT  Schedule
SUMMER READING LOG Calendar
Sagebrush Monthly Newsletter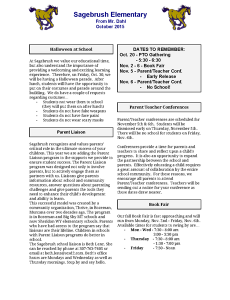 Sagebrush After School Program Summer STEM Camp-The Sky's the Limit- registration is now closed!
Thank you for your interest in the After School Program and Summer STEM Camps. These efforts are generously funded by federal 21st Century Community Learning Centers Grants.  Have a great summer!