Expedition Yellowstone: An Adventure Worth the Wait!
by Wrangler Roundup Staff
As fifth graders, we finally got to go on the Yellowstone field trip this year! We decided to write down some of our feelings before and after the trip.
BEFORE YELLOWSTONE
"I think it will be super fun and I am super excited about being in a cabin with Laurin and Jo-Jo." ~ Medora P.
"I think it's awesome and we should go every day." ~ Isabelle C.
"It's cool that teachers trust 5th graders to go to Yellowstone without parents." ~ Katie T.
"EXCITED!!!!!" ~ Hailey F.
"I have never been there, but I have seen pictures and I am excited to go." ~ Jenna S.
"I am soooo happy I get to go and share a cabin with friends." ~ Laurin J.
"I feel like it's going to be awesome because we are going to see bears and wolves, and I am going to be tired when we get there from the 8-hour bus ride." ~ Summer
AFTER YELLOWSTONE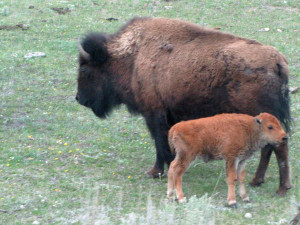 Yellowstone was very fun and exciting! We had the pleasure of getting to personally meet a buffalo. We must have looked very interesting, so he came right down to us to see what was happening! We just sat down for a quick break when we heard Ranger Mel saying loudly, "Bison!" We all looked up and saw a big buffalo coming down to meet us. We grabbed our things and fast-walked up the hill.
The first night was cold for some of us! In cabin #9 (Laurin Jo-Jo & Medora) there was no heat. We had to snuggle on Laurin's bed. Our wake-up call was a bit scary for some. Mrs. Stevens barged into the cabins yelling, "Good Morning!" and scaring us out of our wits. We would come outside and everyone would be telling about how they jumped a foot in the air when an adult walked in.
"Yellowstone was the most fun experience I ever had with my friends. I shared a cabin with Isabelle and Summer. We shared funny stories all night and when I fell asleep … they found a way to wake me up, ALWAYS! I will never forget the campfire we had on the last night. It got really emotional and I will never forget anything that was said. I will miss my friends, frenemies, and even my enemies. I will share this experience with everyone I meet. Thank you for making this an amazing experience for me 5th graders!" ~ Jenna S.
OTHER QUOTES FROM 5TH GRADERS
"The cabins were awesome!" ~ Ty L.
"It was amazing!!" ~ Hailey F.
"We created so many amazing memories!" ~ Jenna S.
"The rangers were nice!" ~ Luke S.
"The wildlife was awesome!" ~ Katie T.
"It was very emotional!" ~ Summer S.