Story Santa Bus 2015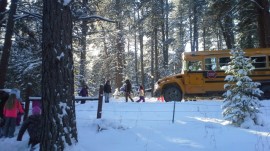 Story students, staff, and members of Story School PTO were out bright and early on December 17th, dashing through the snow to bring Christmas cheer to the community that has supported them so much throughout the years.
Students rode the bus to several stops throughout Story, delivering gifts they made over the past several weeks, and singing a lively rendition of "Dashing Through the Snow".
They visited homes and businesses to express heartfelt gratitude to their many supporters, including the Story Women's Club, Story Sorority, the US Post Office, Tish Coffman at Story Store, Mr. and Mrs. David Sage, Renny Barbula, Jo Elliot of the Story Library, Chief Meineke and the folks at the Fire House, Ken Watkins at Thorne Rider Youth Camp, the Fish Hatchery, Heather Watt, and Miss Sheri their bus driver!
The children came home with as many gifts as they gave out, a testament to the warmth and joy that they are wrapped in all year long by their giving neighbors.
After a very chilly morning, students returned to school to make angels in the freshly fallen snow and warm up with a round of hot cocoa.
Thank you to all of our supporters, we know we weren't able to make it to the doorstep of every person who has supported us this year, and hope you all know how very appreciated you are!