Sagebrush Holds Another Successful McTeacher Night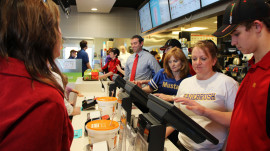 Sagebrush staff once again donned their Sagebrush t-shirts and headed for McDonald's on March 19th, 2015. With staff members manning the cash registers, fryers, burger stations, and the drive-thru, students were given the opportunity to assign the work. Armed with hats, aprons, cleaning cloths, spray bottles, and brooms, Sagebrush was hard at work under the watchful eyes of the McDonald's management and staff.
Thanks to para-professionals at Sagebrush, the night was topped off with a photo booth complete with a Ronald McDonald mask. The turn out of Sagebrush families was impressive –  so impressive that McDonald's owner, Larry Storo, and store manager, Andrea Storo, presented a check for $1,500.00 to the school (received by principal Mr. Brett Dahl, school nurse Traci Eisenman,  and the Student Council President).
Sagebrush would like to extend a big THANK YOU to McDonald's for partnering with us in such a spectacular fundraiser.