If You Build It, They Will Come…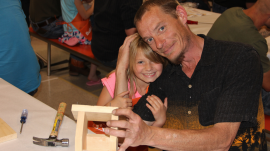 Birds across the Sheridan community will find refuge in the dainty bird houses constructed by Sagebrush kindergarten students who were tapping away on April 29, 2015. With hammer in hand, each student was paired up with his/her father or other significant male figure and presented with the necessary supplies to create a bird house of his/her own. There to assist our young builders were dads, grandfathers and other male role models from the Sagebrush community at the ready.
Our Kindergarten teachers coordinated with Home Depot for the sixth year to provide the supplies and tools required to complete the task.
Sagebrush would like to extend a big "THANK YOU" to Home Depot for helping make this opportunity a reality for our precious Kindergarten students.