Donuts for Grownups on World Autism Awareness Day
by Katie T., Wrangler Roundup Staff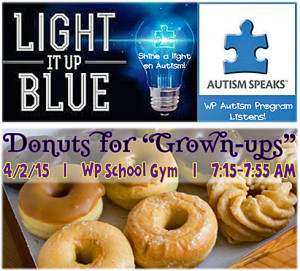 Recently our school PTO held the annual "Donuts for Grownups" event at Woodland Park.  It was also World Autism Awareness Day, so Principal Sanders said we could wear blue to show our support.  Albertsons even put blue icing on half the donuts and our PTO decorated the gym with blue tablecloths and dizzy danglers.  Thank you to the Perkins family for picking up all those boxes of delicious donuts so early in the morning for us!
Students and teachers all love this event.  We get donuts, juice or milk, and bananas.  The best part though is spending time with our parents or other adults, thanks to our hard-working PTO!
Laurin J. said, "I liked that I could sit by my mom and dad."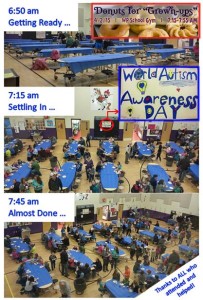 Medora P. said, "It was really cool to see all the kids there."
Jenna S. said, "It was really fun to hang out with my family and they all wore blue!"
Summer S. said, "The chocolate covered donuts with blue icing were AMAZING.  Chocolate covered donuts are better than all the universes combined!"
Katie T. said, "I didn't get to eat any of the donuts, but it was cool that a lot of the grownups came."
Mrs. Stewart said, "Having the opportunity to celebrate World Autism Awareness Day, and show support for our amazing Autism Program staff and students by wearing blue, made our Donuts for Grownups event EXTRA-special this year."
It was also fun for many students to see Mrs. Pushcar, who volunteered at the event by serving donuts.  She's been home with her new baby and her whole class misses her so much.
Thank you to everyone who helped make this day wonderful for all of us.