Christmas Friends and Festivities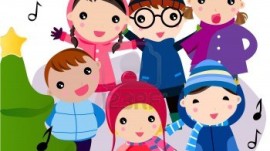 Once again, Mrs. Pam Moore has been hard at work with the Sagebrush students to arrange and present a top notch Christmas program. She has been working closely with the Kindergarten teachers while they prepare their students and our new Orchestra teacher, Erin Cummings, has been getting her 4th and 5th grade students ready for their afternoon performance. The theme this year is "Christmas Friends" and each grade level has been designated a "friend" to sing about. She's also been working with her crew of Magic Makers to facilitate some special magic for the students, staff, parents and friends of Sagebrush. There will be two performances on Tuesday, December 15th at 9:00 am and 1:00 pm. DVD recordings of the performance can be ordered in the office for $5.00.
The Student Council is raffling off two turkey dinner baskets. The proceeds of the raffle will be going toward future Student Council projects. Tickets are 50 cents for one or $1.00 for three. They will also be holding the annual Santa Store to provide an opportunity for kids to shop for their families.  The store will be open all day Wednesday, December 16th and on Thursday, December 17th from 8:05 am until 11:00 am.