Author Claudia Mills Visits Woodland Park
by Hailey F. & Jenna S., Online Student Newspaper Staff
Back in November, author Claudia Mills visited our school. We loved having Claudia Mills at Woodland Park!
About a month before her visit, our Librarian Mrs. Stewart began reading some of Mrs. Mills' books to us. Then, Mrs.Stewart printed out pictures of the author for the bulletin board and told us more about her. By the time the author visited Woodland Park, we felt like we knew her already. It made the visit very exciting!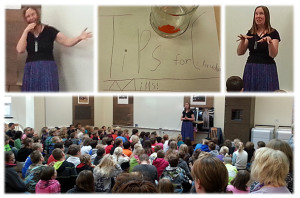 During her visit, Mrs. Mills spoke about how she got a job with a publishing company and sent her own stories to them under a fake name.  She even had to type her own rejection letters!  Eventually, they liked one of her stories and she started to get published.  The main point was that it is a lot harder than you think, and you have to put in a lot of effort to get what you want.  She also told us "what you do most is what you do best" and encouraged us to stick with something if we like it and are good at it.  If you have the courage to not give up during the tough times, things will eventually work out.
Here are what some of the first graders remember from the author visit.
Liam F. said "I remember how she said how her friends look at her books to make sure if her books are good enough to publish. I looked out for good ideas to write in my journal every morning. I really liked her, she was really funny."
Emmy R. said "I was very excited to see her and she made me laugh a lot!"
Vivian G. said "I remembered that she said that every good story has to have a problem. I liked the books that she made. I love how Mrs. Stewart  read some of her books to my class."
After her visit, we emailed Mrs. Mills some questions to learn more about her.  Here are some of the questions and answers:
Question 1:  Who was your favorite elementary school teacher, and why?
Answer 1:  "My fifth grade teacher, Mrs. Orenstein. She loved writing as much as I did. I still have a big notebook of all the writing I did for her class: stories, poems, and plays."
Question 2:  What was the name of your elementary school?
Answer 2:  "West End School."
Question 3: What was your favorite book when you were a kid?
Answer 3:  "Definitely BETSY AND TACY GO DOWNTOWN. It's still my favorite book in the whole world."
Question 4: What book was the hardest for you to write?
Answer 4:  "I have a book called One Square Inch that is a sad book.  My main character, Cooper, and his little sister, Carly, have to deal with the mental illness of their mother.  I usually choose to write funny books about the small problems kids face, so this was a real stretch for me."
Question 5:  Which of your books has sold the most copies?
Answer 5:  "7 x 9 = TROUBLE!  It's sold more than all the rest put together."
Question 6: What books inspired you as a child?
Answer 6:  "Oh, so many! I especially loved books about kids who loved to write, as I did, or who were pursuing other artistic dreams. So a few of my favorites were BETSY AND TACY GO DOWNTOWN by Maud Hart Lovelace (Betsy wants to be a writer) and BALLET SHOES by Noel Streatfeild (one character wants to be a dancer, one wants to be an actress, and one wants to be pilot flying airplanes.)"
Question 7:  Out of all your books, who is your favorite character?
Answer 7:  "In my book LIZZIE AT LAST, the character of Lizzie is so much like me that I even dedicated the book to myself! The book is dedicated "For the girl I used to be." So I think Lizzie is my favorite, followed closely by Dinah of my Dinah series (DYNAMITE DINAH, DINAH FOR PRESIDENT, DINAH IN LOVE, and DINAH FOREVER)."
Question 8:  When did you first discover your love of hot cocoa?
Answer 8:  "I have loved it my whole life long."